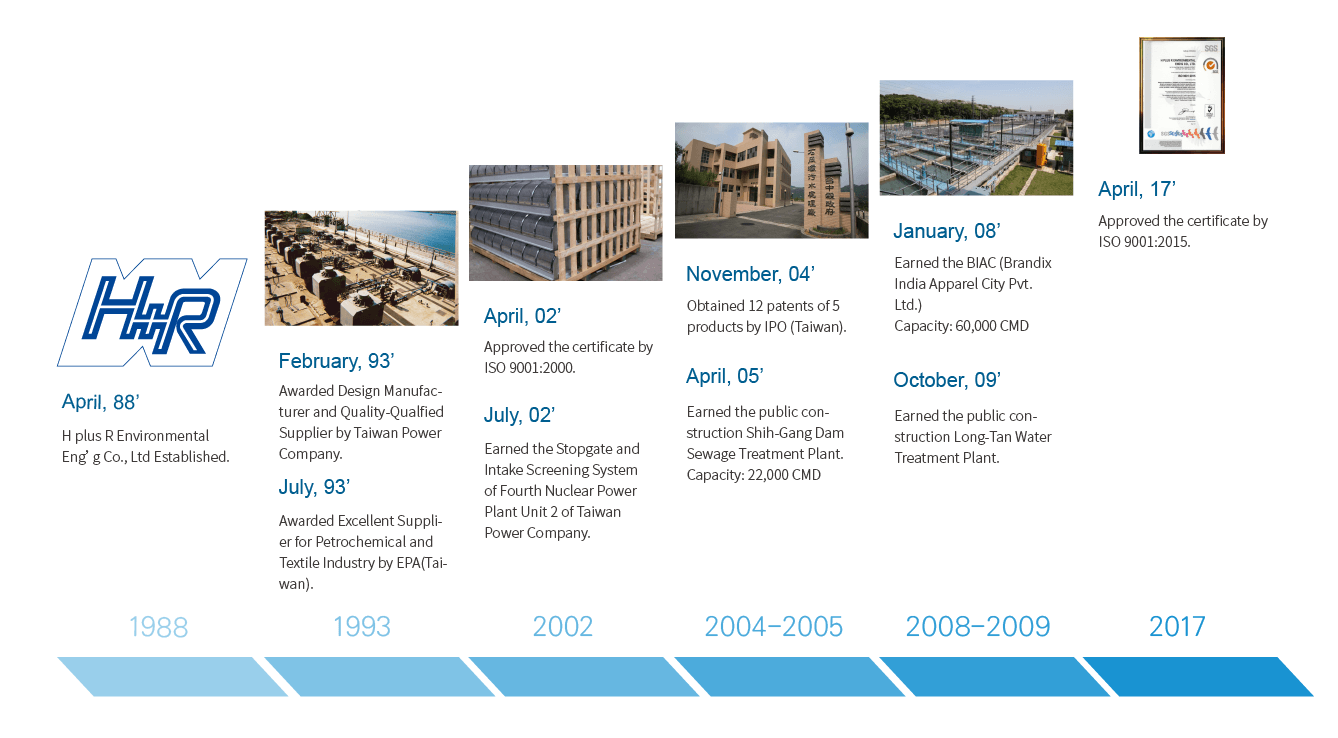 | | |
| --- | --- |
| | Excellent Enterprises Co., Ltd. Establishment. |
| 1988/04 | H+R Environmental Eng'g Co., Ltd. Establishment. |
| 1989/02 | Outstanding Environmental Eng'g Company in Petro-Chemistry and Textile Dyeing Field-Evaluated by EPA. |
| 1990/03 | License Agreement Signed with M.T.S. , U.S. & PASSAVANT , Germany. |
| 1993/07 | Outstanding Environmental Eng'g Company in Petro-Chemistry and Textile Dyeing Field-Evaluated by EPA. |
| 1994/02 | Traveling band screen–Design and manufacturing capability qualified by TPC. |
| 2002/04 | Award ISO 9001 Certified. |
| 2002/07 | Award International Bid – Lungmen Project 4th Nuclear Power Plant Units 1 & 2 |
| 2003/02 | Success Development of Traveling Bar Screen entering the market. |
| | Traveling Band Screen – Outstanding Environmental Equipment Manufacturer Evaluated by IDB. |
| | Success Development of Rod Type Lifting Device entering the market. |
| | Patent approvals for five products by Intellectual Property Office. |
| 2005/04 | Award Shigang Dam Restrict Zone Municipal Sewage Treatment Plant (phase I), Capacity: 22,000 CMD. |
| 2005/11 | Success Development of Step Screen entering the market. |
| 2008/01 | Award Brandix India Apparel City Pvt. Ltd. – Effluent & Water treatment plant, Capacity: 60,000 CMD. |
| 2009/05 | Attend INDO WATER 2009 Expo & Forum |
| 2009/10 | Award Long-Tan water treatment plant renew project, Capacity: 140,000 CMD. |
| 2010/05 | Award ISO 9001:2008 Certified. |
| 2012/07 | Award Jiin Horng Enterprise Ltd. Dyeing Wastewater Treatment Plant, Capacity: 2,000 CMD. |
| 2013/05 | Award Toung Loong Textile Mfg. Co., Ltd. Factory Dyeing Wastewater Plant, Capacity: 2,000 CMD. |
| 2014/01 | Award Southern Taiwan Science Park Phase II – 2nd Wastewater Treatment Plant. |
| 2014/03 | Attend Water Malaysia EXPO. |
| 2015/05 | Attend INDO WATER 2015 Expo & Forum |
| 2016/08 | Attend LANKA WATER EXPO 2016 |
| 2015/05 | Centralized the office and factory from Xinzhaung to Taoyuan |
| 2017/03 | Award ISO 9001:2015 Certified |
1985/09
Excellent Enterprises Co., Ltd. Establishment.
1988/04
H+R Environmental Eng'g Co., Ltd. Establishment.
1989/02
Manufacturing Dept. & Factory Set-up
1990/03
License Agreement Signed with M.T.S. , U.S. & PASSAVANT , Germany.
1993/07
Outstanding Environmental Eng'g Company in Petro-Chemistry and Textile Dyeing Field-Evaluated by EPA.
1994/02
Traveling band screen–Design and manufacturing capability qualified by TPC.
2002/04
Award ISO 9001 Certified.
2002/07
Award International Bid – Lungmen Project 4th Nuclear Power Plant Units 1 & 2
2003/02
Success Development of Traveling Bar Screen entering the market.
2003/11
Traveling Band Screen – Outstanding Environmental Equipment Manufacturer Evaluated by IDB.
2003/12
Success Development of Rod Type Lifting Device entering the market.
2004/11
Patent approvals for five products by Intellectual Property Office.
2005/04
Award Shigang Dam Restrict Zone Municipal Sewage Treatment Plant (phase I), Capacity: 22,000 CMD.
2005/11
Success Development of Step Screen entering the market.
2008/01
Award Brandix India Apparel City Pvt. Ltd. – Effluent & Water treatment plant, Capacity: 60,000 CMD.
2009/05
Attend INDO WATER 2009 Expo & Forum
2009/10
Award Long-Tan water treatment plant renew project, Capacity: 140,000 CMD.
2010/05
Award ISO 9001:2008 Certified.
2012/07
Award Jiin Horng Enterprise Ltd. Dyeing Wastewater Treatment Plant, Capacity: 2,000 CMD.
2013/05
Award Toung Loong Textile Mfg. Co., Ltd. Factory Dyeing Wastewater Plant, Capacity: 2,000 CMD.
2014/01
Award Southern Taiwan Science Park Phase II – 2nd Wastewater Treatment Plant.
2014/03
Attend Water Malaysia EXPO.
2015/05
Attend INDO WATER 2015 Expo & Forum
2016/08
Attend LANKA WATER EXPO 2016
2015/05
Centralized the office and factory from Xinzhaung to Taoyuan
2017/03
Award ISO 9001:2015 Certified.